Your Digital Persona
Your identity online
You need to control this, for people can assume information about you, you should be the authority on your own data
This is what I call your lifelog, or your "Digital Persona"
Capturing your Digital Persona at Source : Lifelogging
More and more transaction/social interactions are happening online
This has been labelled 'The Disappearence of the Body'
Our daily lives leave behind more evidence that we can collect and curate, and the indiscriminating collection of such evidence is what has been coined Lifelogging
Lifelogging can either be :

Passive : storing by-productsof the life one would have lived anyways
Active : one surrounds oneself with sensors and information capture tools to create as rich a picture of one's life as possible.
Passive Lifelogging
An example could be our very own Semantic Squirrels Group
The identification of sources of "cheaply available" autobiographical information
Surreptitious capture of autobiographical data
Ethos: Storing information in its raw form, for future utility.
Sources of information identified:

Calendar: iCal
Location information: GPS, Network Gazetteer
File System Information: PDFs, Documents
Web History information: Firefox
Email Information: Mbox
Media Playlist Information: Music
Contextual Info: Weather and News metadata
Active Lifelogging : MyLifeBits (1)
Gordon Bell's baby, well Gordon and his many assistants...
The SenseCam device
Others active in this space
Lifelogging & Empowerment (1)
Don't trust people to store your data on your behalf
Capture your own context and your own content
Store your own data, give yourself a WebID, and use that as the subject whenever you want to create data about yourself
Store your own data and use pushback technology like mhausenblas's RDF -> API RDF Pushback work
Rutgers Uni., Hasan Elahi, who was arrested in 2002 on serious terrorism allegations despite being absolutely innocent of any criminal or terrorist activity, has taken to lifelogging and posting the information on the Web as a pre-emptive alibi, see: http://trackingtransience.net/
JenniCam : A camera with a view the experiment was meant to enpower women ...
So how does Personal Information fit in with the Semantic Web
Associative Querying
My favourite TimBL picture :
Ontomedia Ontology (1)
Build an ontology for describing stories
Sources of Information where people are leaving their digital trails' anyway...
Mbox/Messaging
Music
WebBrowsing
Geolocation (IP gazetteers e.g. skyhock)
Social Network Info (FOAF - must most likely facebook, twitter, myspace, ...)
Nepomuk SemanticDesktop in KDE 4.0 File Reading preferences
Radio/BBC Programmes style data
Blog Info
Augmenting context with external datasources
Human memory, associative linking in memory
Lateral thinking
Context could include:

Weather Info
Day/Night Info
Indoor/Outdoors Info
News Info
Traffic Info/on one's route to work...
The FOAF Landscape as per Q1 2009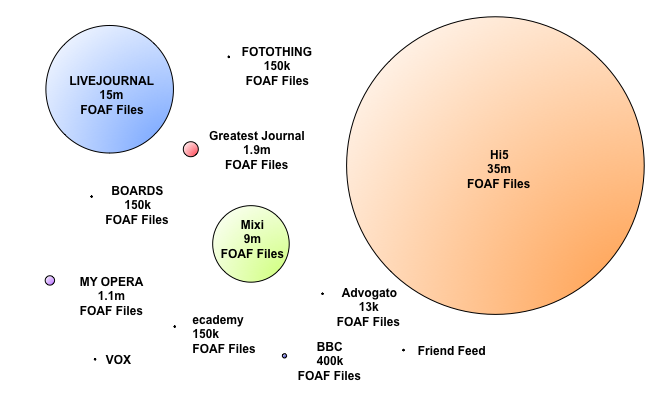 Future Direction
Pudsey of a Friend (POAF)
Full Text Search over FOAF files
Grab all of it !
Server to Server updates : P2P on the Web in an Open Manner :XMPP JQbus?
OAuth which Interacts with 4store code to be released
Release code snipbits for people to ping to the FOAF KB http://foaf.qdos.com/ping
Release stats on connectivity and richness of FOAF data from different sites
Find time and Write a paper :)